Andrzej Kołodziej laureatem nagrody "Świadek Historii"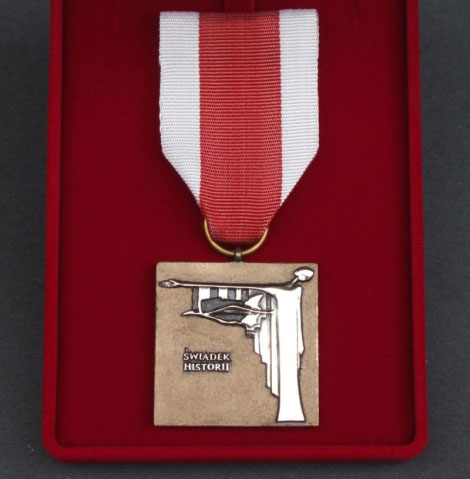 Nagroda "Świadek Historii" przyznana została przez
Oddział Instytutu Pamięci Narodowej w Gdańsku. 
Wręczenie tych honorowych odznaczeń 6 osobom
zasłużonym na polu upamiętniania historii
odbyło się 15 grudnia w Dworze Artusa.
I edycja Nagrody Honorowej "Świadek Historii" w Oddziale IPN w Gdańsku
Sześć osób, w tym abp Sławoj Leszek Głódź oraz sygnatariusz Porozumień Sierpniowych Andrzej Kołodziej, otrzymało w poniedziałek nagrody honorowe "Świadek Historii". Gdański oddział IPN przyznał je osobom z regionu szczególnie zasłużonym dla polskiej historii.
Uroczystość odbyła się w gdańskim Dworze Artusa, a nagrody mające formę odznaczeń. Nagrody wręczył laureatom prezes Instytutu Pamięci Narodowej dr Łukasz Kamiński.
"Świadek historii to z jednej strony osoba, która sama uczestniczyła w ważnych wydarzeniach historii naszej ojczyzny, ale jest to także ktoś, kto swoją współczesną działalnością świadczy o tym, jaka jest waga historii w naszym wspólnym życiu. To ktoś, kto wskazuje iż z przeszłości płyną wartości, na których i dzisiaj opieramy nasze życie społeczne i narodowe" – powiedział Prezes Łukasz Kamiński otwierając uroczystość.
Gratulując laureatom Prezes IPN zwrócił się też do nich z prośbą, aby "ta nagroda była nie tylko ukoronowaniem dotychczasowej drogi, ale też zachętą do jej kontynuowania". "Aby dalej byli państwo świadkami historii, których IPN nieustannie potrzebuje" – mówił Łukasz Kamiński.
Czytaj więcej:
http://ipn.gov.pl/aktualnosci/2014/gdansk/i-edycja-nagrody-honorowej-swiadek-historii-w-oddziale-ipn-w-gdansku